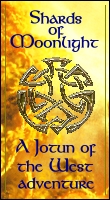 <! --------------------------------------------------------------------------------------------------------------------------------------->




The following listed appendices are a source of additional information for any reader who might wish to know more about the mythology of the Oera'dim. The names of Qirion'Delving and Hamulkuk are used within this story and some of their history can be found here. The third appendix titled "Blade and Hammer" is an excerpt from a lecture given at the Kalborean Military Academy regarding the Jotun Art of Vengeance. This is something of considerable interest to any reader who might want to understand in greater detail the culture that compels Tansen to act against those that have wronged him.




The Hammer and the Darkness

In this tale of the Hammer and the Darkness can be found the origins of the Great Insurrection and the destruction of the Trell'sara. Told by the Living Book at Shalamai it is the story of Qirion'Delving and the fall of the Word of Command, and of the end of Aggeron, Utterer of the Word and Master of All. This story uncovers the nature of the Circle of Existence and tells how the Oera'dim found freedom at the height of the power of the Masters.




Hamulkuk and the Moon Dragons

In the darkest hours of the War of Tree and Leaf the Trell'sara stand on the brink of destruction. Overwhelmed by the companions to the Silvan Tree they must look to a new weapon, one stronger and more lethal than themselves. Into this world is born Hamulkuk, First Hresh in the world and first of the Oera'dim, a Being built for war and with much to prove to his new Masters. In this tale Hamulkuk is sent into the mountains of Ul'ashma to remove the threat of the Moon Dragons. Within the setting of a land not yet despoiled by tyranny Hamulkuk must battle not only the deadly power of the Ell'adrim but also the forces of a world finding its way towards a New Order.




Blade and Hammer - The Jotun Art of Vengeance

Here is the Jotun Art of Vengeance, as described by those who watch the Jotun and guard the northern borders of Men from the Horde. Compiled from information gathered by the Rangers of the Watch this is an insight into the culture and discipline of the Jotun, and a window into the world of Tansen'Delving and the Honour Code that all Jotun must live by.





<! --------------------------------------------------------------------------------------------------------------------------------------->


This site, and associated books and other documents are the intellectual property of the author, Wayne F Densley, and all rights are reserved by him. The Jotun of the West gamebook adventure series is a part of the Chronicles of Arborell. Any questions regarding the Chronicles can be answered by emailing the author at densleyw@shoal.net.au