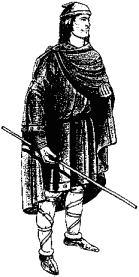 Catagory: Hero
Cost: 40 points
Statistics: M(4) WS(4) BS(4) S(4) T(4) W(2) I(3) A(3) Ld(8)
Starting Weapons and Armour: Hand Weapon.
Options: May be given an additonal Hand Wepon (+3 pts), or a Great Weapon (+3 pts). May be given a Shield (+3 pts). May be given Light Armour (+3 pts). A Lowborn Champion may also be given a Shortbow (+2 pts) or a Bow (+4 pts).
Special Rules: Lowborn, Champion of The People, Impoverished.