Here are a few links to some sites of interest. Mostly gamebook related, with a few fantasy and RPG sites thrown in, they are a collection of my favourites. I have listed them below for your consideration.



Cubus Games

Cubus Games is a new entrant to the gamebook apps genre that demonstrates how well these new digital gamebooks are developing. Their first offering - The Sinister Fairground - is now available for download.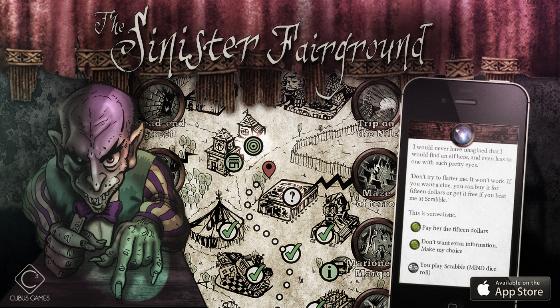 Tin Man Games

For a lot of good reasons Tin Man Games is one of the best developers of gamebook apps in the world today. With a growing library of outstanding gamebooks TMG deserves the success it has achieved. Highly recommended site for anyone wanting to experience a wide ranging collection of high quality gamebook apps.


Crumbly Head Games - Gamebook Authoring Tool

Here can be found Crumbly Head Games and a very impressive Gamebook Authoring Tool. If you have a hankering to write your own gamebooks and want an efficient and clever way to lay down the sections and organise all those links then this authoring tool is for you.


Gamebook Experience by Epnuke Studios

A new and exciting series of gamebook titles from Epnuke Studios can be found here. First gamebook app in the Gamebook Experience series is St George, a reworking of the medieval myth and currently available for Android devices at Google Play for free. Soon to be released also for iOS and Windows Phone.


Greywood Publishing

Publishers of the Fabled Lands Role Playing Game, QUERP, QUERP Modern and Dungeon Crawl. Coming soon: ARP2020 (Advanced Role Playing in the modern world). This is a very cool site that has just upgraded its format. Very much into the Fabled Lands setting and a great place to look around if you appreciate that gamebook series.




Lloyd of Gamebooks

An excellent blog written by Stuart Lloyd and updated on a regular basis. Covers topics from gamebook writing to reviews and information on other gamebook series. Even covers the Windhammer Prize and general info regarding the Chronicles of Arborell. A great read and one well recommended.


Lone Tiger Gamebooks

This is a newly created blog that will be covering gamebooks and gamebook series that include amateur gamebooks and other titles not usually reviewed in the wider media. Written by Stuart Lloyd and Andrew Wright, both Windhammer Prize award winners, this blog covers gamebooks as I like them and is certainly recommended.


Blackstaff Gamebooks

Here's another great author with a real passion for the gamebook genre. One title, Wizard Outcast, is currently available with more to come. With a comprehensive rule system that includes magic, cool combat resolution and a capacity for collecting a lot of loot there's something here for every adventurer.



Chooseomatic Books

Here's a new interactive fiction author with great style and a penchant for the walking dead. Matt Youngmark's new gamebook adventure "Zombocalypse Now" is now available in trade paperback and as a Kindle download. A lot of fun and highly recommended for anyone looking for an original interactive adventure.


Roleplayers Chronicle

This is a great rpg news site that covers everything to do with tabletop roleplaying. Updated daily, it is one of the best organised and presented RPG news sites that can be found on the web.



Adventure Cow

This is an interesting and ongoing project to develop a gamebook engine for mobile devices. Some games are currently available with more to come. Worth a look if you are interested in putting together a gamebook for these types of devices.


Age of Fable

This is a very interesting site that provides a huge gamebook-style adventure that is growing all the time. Recommended for anyone who enjoys screen-based interactive fiction.


Fighting Fantasy Project

Here is a great site for finding amateur fighting fantasy gamebooks. Well designed, with a great selection of well-written gamebooks it an excellent example of how good some fighting fantasy fan-fiction can be. Highly recommended.


Choose Your Story

Here can be found a great interactive fiction site where you can create your own interactive stories and find a host of other CYOA style adventures. This site makes use of its own game creation program and has a comprehensive help area for the scripting software.


Demians Gamebook page

If ever there was a site that defines the gamebook genre then this must be it. Do not miss it if you are a fan. From cover art to indepth reviews, the breadth of Demians Gamebook Page is quite amazing. Even the Chronicles get a mention here.


Cumberland Games

Initially I looked at this site for the free gamebook that is available but found much more besides. It has over time grown into a much larger entity where you can find heaps of RPG materials, including dungeon tiles, roleplaying cards, a range of RPG related fonts fonts and PDF format ebooks. Well worth a look.


Spellcaster Gamebooks

This is a beautifully presented website that showcases the works of Louisa Dent Pearce, an australian author and writer of the Spellcaster gamebook series. Available in both printed and digital form her gamebooks are wonderful stories well worth reading. Highly Recommended.



Fightingfantasy.com

This is a huge site. Within its many pages you can find detailed book reviews, solutions to a number of FF books and more information about Fighting Fantasy than you could possibly digest in one sitting. There are also a number of amateur FF books and a mailing list if you are interested in news on this very popular series.


Advanced Fighting Fantasy

This is a relatively new site that provides an extraordinary amount of information on the Fighting Fantasy series and role-playing activities associated with it. Here you will find interviews with FF authors, in-depth information on the books and role-playing rules, chat rooms, news and opinion, FF art and amateur FF books that you can download. It is a great site for anybody interested in FF books or the AFF roleplaying rules.


Pure Indigo Publishing

Here is a great company that publishes the Adventure Begins Here series and the Hero Workshop character generation software. Available in printed and online formats their two gamebooks, The Renegade Wizard and Dragon's Deep are well worth a look. Website also provides a number of free downloads including an online version of Dragon's Deep.


Quantum Muse

Not a gamebook site, but a great source for new Science Fiction and Fantasy writing. All is free at this site and is well worth a look.


Sir Gindle's Bretonnian War Room

This is a shameless plug for one of my son's Warhammer websites. It's his first attempt and I am very proud of it. If you are looking for anything Bretonnian you'll find it here.


I will be adding to these links as time goes on, however any good search engine will provide you with a great deal of opportunity to discover the ever-growing world of fantasy gamebook fiction. These are but a few of my favourites.